Boost your career with MSCA Postdoctoral Fellowships
Live Talk by Sara Rollino (Research Manager, Politecnico di Torino) & Daniele Fiscaletti (Assistant Professor, Delft University of Technology), on June 27th, 14.30-16 PM CET
Posted on by Vincenzo Picozzi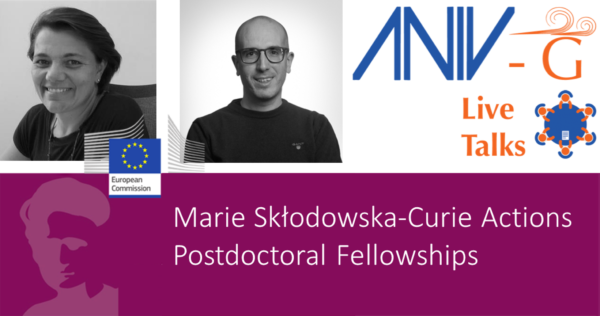 Marie Skłodowska-Curie Actions Postdoctoral Fellowships (MSCA-PF) support researchers' careers and foster excellence in research. MSCA-PF targets researchers holding a PhD who wish to carry out research activity abroad, acquire new skills and develop their careers. MSCA-PF allow researchers to gain experience in other countries, disciplines and non-academic sectors, boosting their CVs. MSCA-PF are founded by EU (€260.47 million in 2023) and are open to researchers of any nationality.
The seminar will be held by Sara Rollino, Research Manager from Politecnico di Torino experienced in MSCA-PF. She will introduce MSCA-PF, proposal writing and evaluation criteria. The MSCA fellow Daniele Fiscaletti, Assistant Professor from Delft University, will showcase his success story focusing on his experience before, throughout and after his fellowship.
The Live Talk will take place on Teams platform on Tuesday, June 27th, 14.30-16 PM (CET).
If you are not an ANIV-G member, please register for free by sending us an email to giovaniingegnerivento@gmail.com. Then, the link to join the webinar will be sent to you.
Click here to download the event flyer.
---